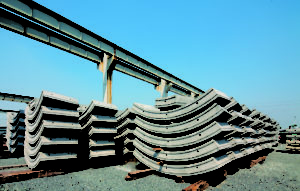 Everyone out there is on the lookout for new items to style up their home and giving it an amazing look. Other than copper and ceramic, concrete can also be used to produce designed products. Concrete has a variety of products from larger products to tiny items. The list consists of products made from concrete. Take a look;
Desk lamp
If you want to make your office snappy, how about you get yourself one?  The design itself looks cool. It features a metallic bulb attached to a concrete block. Also, the desk lamp can be used as a pencil lamp.
Concrete chair
The concrete chair is a design from Lyon Beton, a French designer. The chair can add some variety in your dining room when placed together with other wooden chairs.  The product also ranges from furniture pieces to smaller designs.
Bookend
The concrete brain is also Lyon Beton design. If you are looking for something to hold your books together and at the same time add a touch to your bookshelf, then you need to have a 'concrete brain' bookend. Also, the bookend can make a nice gift for book warmers if you are planning to surprise them.
Concrete bear
The bear-like figures sculptures are works from REHFORM, a German design studio. The sculpture weighs about 8kg and it is a great piece to have for decoration purposes. The designers also have other sculptures such as lion and wolf.
Pipeline vase
This extraordinary vase is having the shape of a pipeline is the work of Lyon Beton. The sculpture is inspired by life in the city. Its agrestic design can add a peculiar and an industrial touch to your room. The design comes in different sizes.
Egg bowl
Meet the egg carton made purely from concrete. Created by korn Produkte, the carton can be used to store small items like vegetables, fruits, and eggs too. Its versatile ability allows it to fit perfectly in your fridge or on a shelf.
Tape dispenser
If you need to add a touch to your desk, then you definitely need this concrete tape dispenser. It is one of the items designed by Tom Adman, a Swedish designer. Also, it makes a good gift to a colleague or a friend. Concrete was invented in different phases, read here how concrete designers who transform this composite material into a showroom thing to gain more knowledge.